Volume 5, Issue 2 (2017) College of the Arts Special Issue
Introduction to the Special Issue from Patricia S. Poulter, Ed.D., Dean of the College of the Arts
It is with great pleasure that I introduce this special issue of the Kennesaw Journal of Undergraduate Research (KJUR) with a focus on the arts. Scholarly and creative exploration are central to the arts, and supporting students in these endeavors is central to the mission of the College of the Arts. Our students have presented original research and creative works at national conferences, had their works selected for public performances, been published in professional journals, and chosen for juried exhibitions. This issue highlights but a few of the many young scholars in the College.
Faculty mentors are integral to the process, exemplifying best practices of applied, experiential learning. Through deep inquiry, application of solid research methods, and a desire to feed curiosity, student researchers and creators have the opportunity to fully integrate a variety of meaningful skills under the guidance of dedicated and engaged faculty. Special thanks to the following people, whose vision, mentorship, commitment to students, and modeling a rich research life made this issue possible.
Amy Buddie, PhD, Director, Office of Undergraduate Research
Sarah Holmes, PhD, Department of Dance
Diana McClintock, PhD, School of Art and Design
Aajay Murphy, Repository and Publishing Manager, Digital Commons at Kennesaw State University
Angela Farr Schiller, PhD, Department of Theatre and Performance Studies
Jessica Stephenson, PhD, School of Art and Design
Congratulations to our featured students, and to all students undertaking the immersive and transformative practice of research and creative activity. Your lives will be the richer for rising to the challenge.
Articles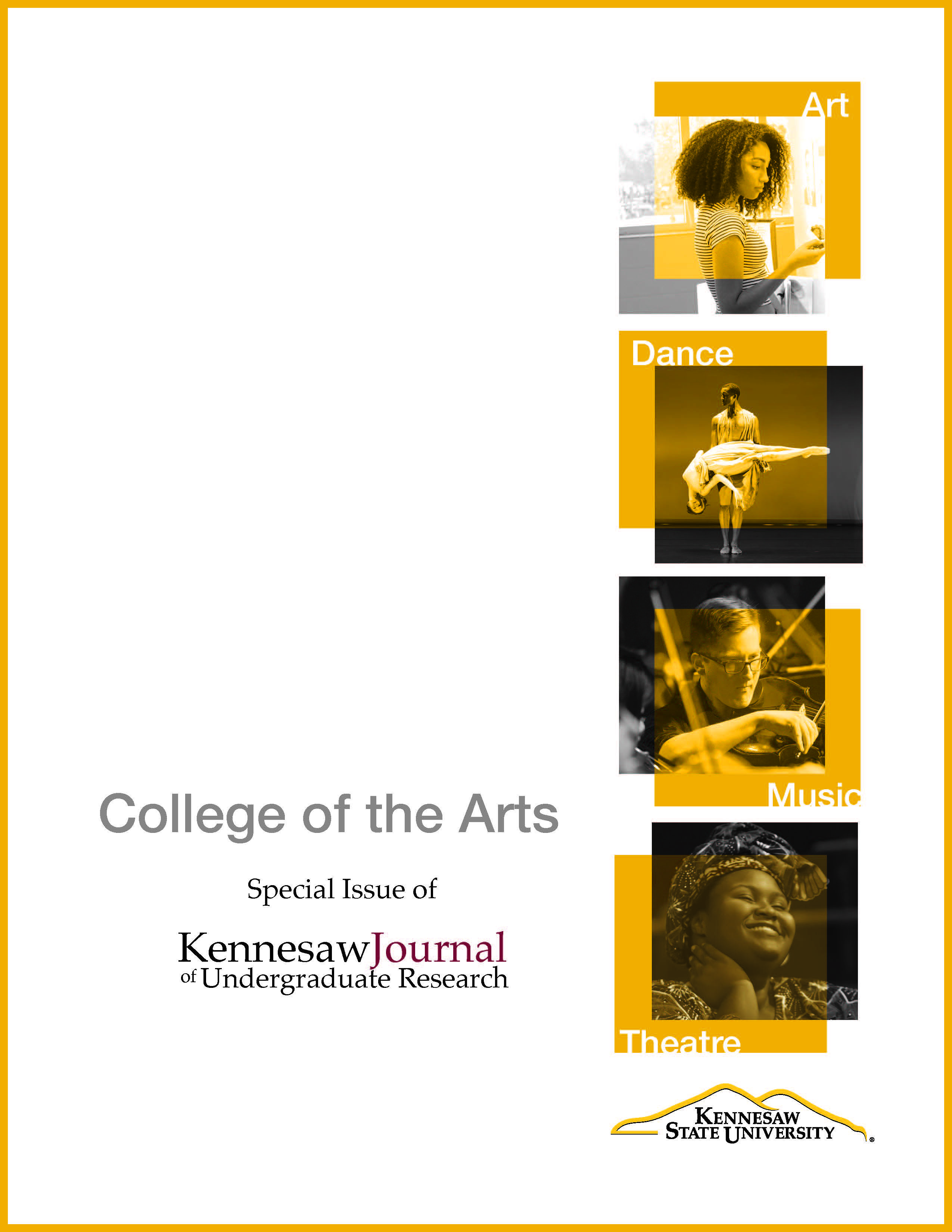 Co-Editors
Sarah Holmes

Department of Dance

Dinah McClintock

School of Art and Design

Angela Farr Schiller

Department of Theatre and Performance Studies

Jessica Stephenson

School of Art and Design