Volume 1, Number 1 (2012) Inaugural Issue: Winter 2012
Editor's Note
Welcome to the inaugural issue of the Atlantic Marketing Journal.
Thanks to the vision and support of the Board of Directors of the Atlantic Marketing Association, the dream of a peer reviewed academic journal to serve a broad community of marketing academics and practitioners has come to fruition.
Thank you also to the authors who have submitted to the journal. They could have submitted their manuscripts to journals of longer standing and widely known reputation. The Editors appreciate that authors are willing to support the journal with the product of their hard work.
Thank you to the reviewers. Without reviewers, a peer reviewed journal could not exist.
Thank you to the Associate Editors of the journal and the Executive Director of the Atlantic Marketing Association. Without your work and support this inaugural issue would not have been possible.
We look now to the future: A growing reputation, growing quality of published articles, and the provision of a sound academic publishing outlet. We hope to fill a niche. Not every academician is blessed with the support of various kinds that it normally takes to gain publication in the very highest ranked and rated journals within an academic discipline. We hope to provide a home for sound scholarship of various sorts: Empirical, pedagogical, theoretical and practical, while maintaining the standards which are implied and assured by peer review.
Walter R. Kendall, Editor in Chief
Tarleton State University
Articles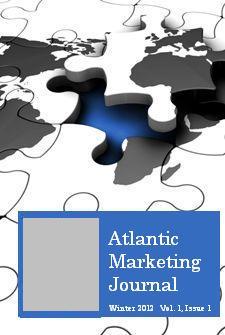 Editors
Walter Kendall, Editor in Chief
Tarleton State University
Stephenville, Texas

Tyra Burton, Associate Editor
Kennesaw State University
Kennesaw, Georgia

Nathan Heller, Associate Editor
Tarleton State University
Stephenville, Texas